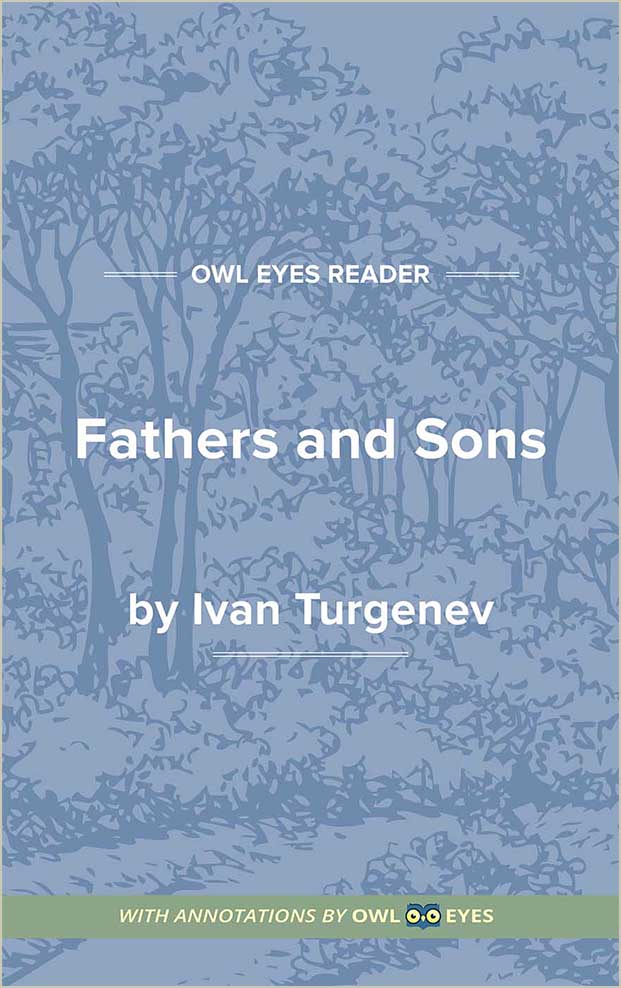 Character Analysis

in

Fathers and Sons
Arkady Nikolaevich Kirsanov: One of the two main characters of the novel, Arkady is a recent graduate of the University of St. Petersburg. He returns home to his father Nikolai's estate. While Arkady is a kind, thoughtful young man, he surprises his family by bringing with him his rough, rude friend Bazarov. Bazarov has turned Arkady onto the philosophy of nihilism, a change that baffles Arkady's father, Nikolai. As the two young men argue about philosophy and politics over the course of the novel, it becomes clear that Arkady is at least as intelligent and eloquent as Bazarov, but much meeker. Eventually, Arkady discovers that nihilism does not suit him because his temperament is more easy-going: he appreciates nature, family, and tradition.
Evgenii Vasilievitch Bazarov: Bazarov is the most distinctive character in Fathers and Sons and represents an anti-hero of sorts. Bazarov is intense, domineering, rigid, and rude. He is also darkly charismatic, drawing attention with his grand presence and contrary ideas. In the rural world of the Kirsanov estate, Bazarov stands out for his new nihilistic philosophy. It becomes apparent that Bazarov promotes nihilism to a large degree because it suits his personality. Bazarov relishes his role as a naysayer. Nihilism also offers Bazarov a way to frame the existential questioning he undertakes in the novel, an experience common to young adults. On the surface, Bazarov is representative of a new ideology. Below the surface, he is a confused young man struggling to find his bearing in the world. We can see nihilism as a tool with which Bazarov separates himself from his parents, a difficult step every young adult takes.
Nikolai Petrovitch Kirsanov: Nikolai Kirsanov is Arkady's father. Approaching middle age and living in the country, Nikolai worries that he is losing touch with the ideas and events of the day. When Arkady and Bazarov arrive at his estate, Nikolai is astonished by the new nihilistic philosophy the two young men espouse. Like Arkady, Nikolai is a malleable man, receptive to the ideas and opinions of others. As a romantic and a man of traditional values, however, he is troubled by nihilism.
Paul Petrovitch Kirsanov: Paul Kirsanov—"Pavel" in other translations—is Nikolai's older brother. Paul is a former military man and a middle-aged bachelor. Paul matches Bazarov in vanity, intensity of temperament, and roughness of manner. Despite, or perhaps because of, their similar personalities, Paul and Bazarov clash from the start of the novel. As a proponent of aristocratic values and principles, Paul immediately detests Bazarov's nihilism. Paul's defining wound is the failed love affair that scarred him in his younger years.
Anna Sergievna Odintsova: Anna Sergievna is an independent young woman who lives in the neighboring province from Maryino, Nikolai's estate. Arkady and Bazarov meet Anna at a dance and the two men quickly fall in love with her. Anna takes a fancy to Bazarov and invites both men to stay at her estate. Anna is elegant, intelligent, and charming but aloof. When Bazarov finally expresses his love for her, she recedes from his affections. Orphaned as a small child, Anna struggles to trust the world around her.
Character Analysis Examples in Fathers and Sons: