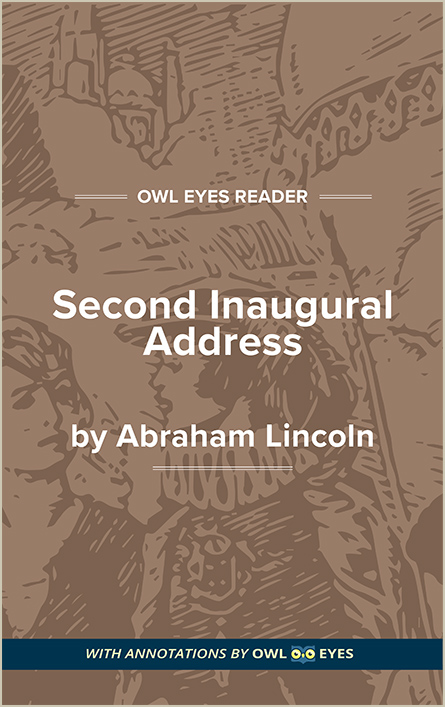 Annotated Full Text

Publication Date:

1865

Flesch-Kincaid Level:

11

Approx. Reading Time:

3 minutes
When, upon his reelection, Abraham Lincoln delivered his second inaugural address on March 4th, 1865, one subject was on the minds of all Americans: war. The Civil War had erupted shortly after Lincoln's first inaugural address in 1861 and, as Lincoln notes, preparations for the war dominated that speech. At the time of his second address four years later, the war was nearly over. It was no longer a time of anxious anticipations. It was a time of endings and mournings. Lincoln expresses "high hope for the future" and finds "the progress of our arms […] encouraging to all." By March, 1865, victory was close at hand for the Union troops, who had plunged deep into the heart of the Confederacy. Just 36 days after Lincoln's speech, Confederate general Robert E. Lee would surrender to Union general Ulysses S. Grant in Appomattox, Virginia. Regarding the end of the war, Lincoln's tone in his address is confident but far from celebratory. As the speech continues, he carefully considers the humanity of all involved in the war: the Union, the Confederacy, and the slaves. To Lincoln, the Union's cause is righteous, but the Confederates, far from villains, "read the same Bible, and pray to the same God." There is no trace of gloating or pride in Lincoln's words, only the desire to rid the nation of slavery, to reconcile a divided America, and to "heal the nation's wounds." Tragically, Lincoln was assassinated just six weeks later.
Annotated Full Text

Publication Date:

1865

Flesch-Kincaid Level:

11

Approx. Reading Time:

3 minutes