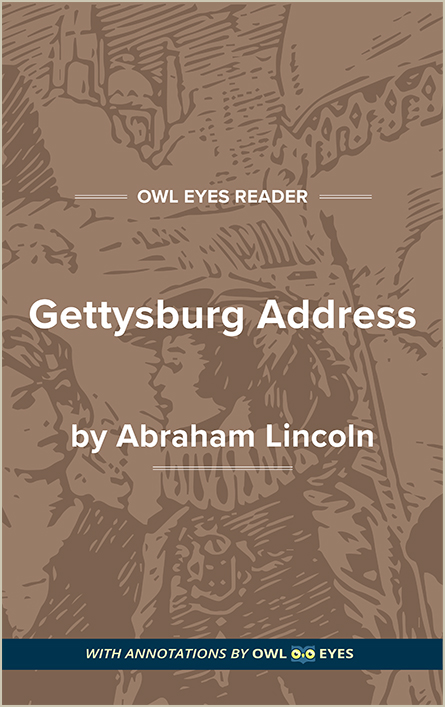 Historical Context

in

Gettysburg Address
The Civil War: The Civil War was the defining event in the United States during the 19th century. The conflict encompassed the entirety of Lincoln's presidency and absorbed the greater part of his attention while in office. The war was fought by the Union—the federal government and the Northern states—and the Confederacy—the Southern states who seceded from the Union in rebellion in 1861-62. The primary cause for Southern secession, and therefore the war, was the issue of slavery, which had divided the North and South for nearly a century. While the Northern states had given up slavery for ethical reasons, the Southern states held onto the institution out of necessity; the Southern economy was based on cash crops like cotton, which were more efficiently harvested with the use of free labor. The war raged for four years before the Union finally claimed victory and eradicated slavery and in the Spring of 1865.
The Battle of Gettysburg: The Battle of Gettysburg was both the largest battle of the Civil War and the turning point, after which Union victory became increasingly certain. Before the battle, however, the Union was in a defensive position, reacting to the Confederate army's march north into Pennsylvania. It was the Army of Northern Virginia, the strongest force of the Confederacy, led by Robert E. Lee, arguably the single most skilled soldier and military strategist of the Civil War. The Union retaliated with the Army of the Potomac, led by George Meade, an untested officer. The armies clashed outside the small town of Gettysburg and fought for three days in a succession of skirmishes and pitched battles. The outcome was cataclysmic. Between the Union army's well-stocked troops and rows of cannons spouting grapeshot, and the Confederate army's seasoned, fearless rebels and sharp leadership, the losses were unprecedented. An estimated 51,000 soldiers were killed, injured, or lost. It is the single deadliest engagement in American history. According to some historians, the war might have ended in Gettysburg had Meade chosen to pursue Lee's retreating troops. Instead, the war continued for another 18 months.
The Gettysburg National Cemetery: Less than five months after the Battle of Gettysburg, the federal government established a national cemetery on the battle-ground to bury and commemorate the dead. The national cemetery system began during the Civil War in order to respond to the wartime losses. Gettysburg was just the 17th national cemetery established; today there are 147. Lincoln's speech at the consecration ceremony served to commemorate the dead, confront the state of the war, and reaffirm the nation's vision in a time of turmoil and tragedy.
Historical Context Examples in Gettysburg Address: