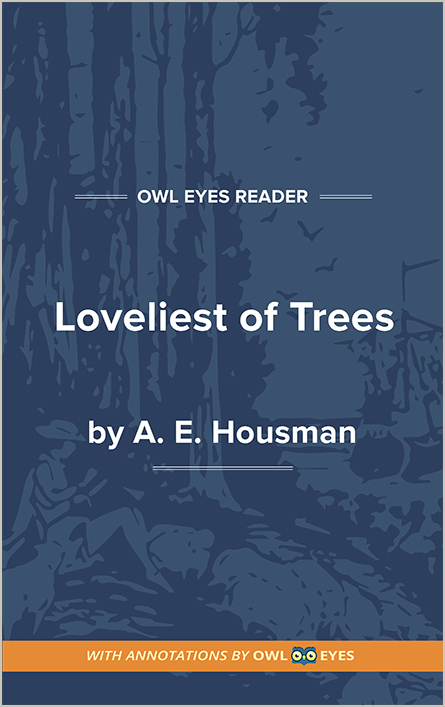 Annotated Full Text

Literary Period:

Victorian

Publication Date:

1896

Flesch-Kincaid Level:

9

Approx. Reading Time:

0 minutes
One of the best-known works from A.E. Housman's A Shropshire Lad, "Loveliest of Trees" presents a popular carpe diem theme complicated with a realistic, meditative reflection on life. The speaker begins with a claim that cherry trees are the loveliest, noting their overwhelming presence in the rural Shropshire woodlands during springtime. They are in full white bloom, serving as a celebration of rebirth and rejuvenation that is normally associated with Easter and spring. However, the speaker juxtaposes this loveliness with the understanding of its ephemerality. He recognizes that life is short, and even if he lives a full life, that, too, will still not be long enough to truly witness the splendor of these trees in bloom. The speaker ends with the image of these beautiful trees dressed in white snow and the promise that he will spend his life appreciating nature in both winter and spring.
Annotated Full Text

Literary Period:

Victorian

Publication Date:

1896

Flesch-Kincaid Level:

9

Approx. Reading Time:

0 minutes