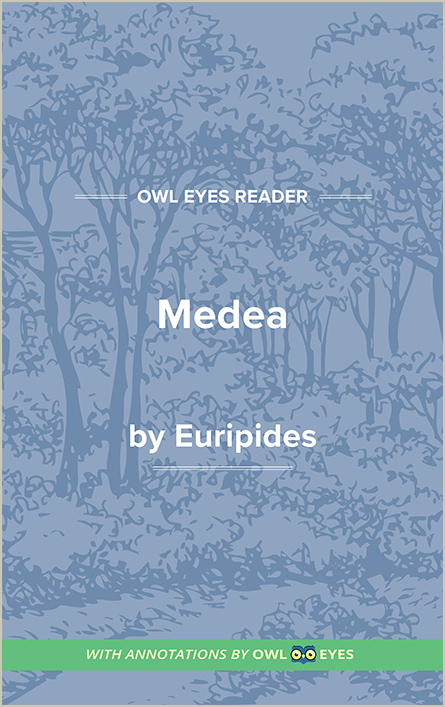 Literary Devices

in

The Medea
Chorus: A fundamental part of Greek drama, the chorus consisted of 12 to 50 actors who danced, sang, or spoke their lines in unison. The chorus explains the play to the audience and points out themes, especially the main takeaway or moral message of the play. They function as a type of ideal spectator who contemplates the larger themes of the play. In Medea, the chorus represents the ideal Corinthian woman. In abandoning Medea for Creon's daughter Glauce, Jason upsets the natural order of Greek society. The chorus supports Medea's murderous plot against Glauce and vengeance against Jason because of his betrayal. However, the chorus vehemently protests Medea's decision to murder her children in order to punish Jason. They condemn her actions to indicate to the audience that this type of revenge is not acceptable by social standards. The chorus allows Euripides to communicate the moral message of his play and include a tragic plot that does not adhere to the social standards he seeks to proclaim.
Deus ex machina: Deus ex machina, or "the god in the machine," is a Greek plot device in which an unexpected power, being, or occurrence enters the plot and saves a seemingly hopeless situation. In Greek drama this device often took the form of an actual god swooping in and rescuing the protagonist. In Medea, the god Helios sends a chariot pulled by dragons to save Medea from Jason's wrath.
Dramatic Irony: Dramatic irony occurs when the audience knows something that the character does not know. It builds tension and suspense in a drama and causes the audience to feel more a part of the plot. In Medea, Jason is tricked by Medea's change of heart and false support of his decision to marry Glauce. The audience knows that she will seek revenge against him even though he is blind to her deception.
Literary Devices Examples in The Medea: