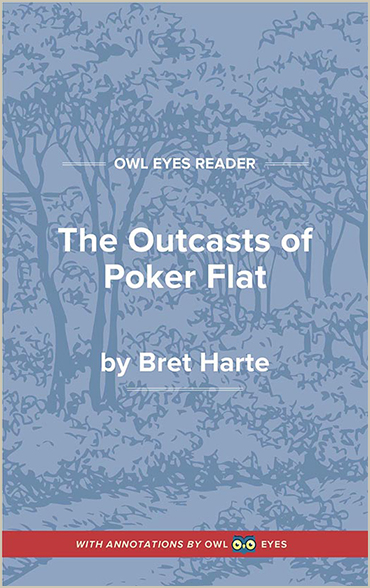 Annotated Full Text

Literary Period:

Regionalism

Publication Date:

1896

Flesch-Kincaid Level:

8

Approx. Reading Time:

20 minutes
As Mr. John Oakhurst, gambler, stepped into the main street of Poker Flat on the morning of the twenty-third of November, 1850, he was conscious of a change in its moral atmosphere since the preceding night. Two or three men, conversing earnestly together, ceased as he approached, and exchanged significant glances. There was a Sabbath lull in the air which, in a settlement unused to Sabbath influences, looked ominous.
Mr. Oakhurst's calm, handsome face betrayed small concern in these indications. Whether he was conscious of any predisposing cause was another question. "I reckon they're after somebody," he reflected; "likely it's me." He returned to his pocket the handkerchief with which he had been whipping away the red dust of Poker Flat from his neat boots, and quietly discharged his mind of any further conjecture.
Annotated Full Text

Literary Period:

Regionalism

Publication Date:

1896

Flesch-Kincaid Level:

8

Approx. Reading Time:

20 minutes