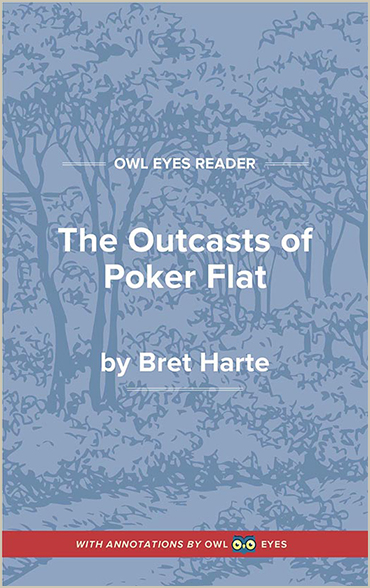 Character Analysis

in

The Outcasts of Poker Flat
John Oakhurst: A character of noble qualities, John is exiled not due to his unsavory nature, but out of revenge and spite. When he successfully wins a large amount of money from the leaders of the town, they have him permanently banished. Various instances throughout the story show John to be a character with good moral values. He even insists on returning Tom's money to him after winning at cards.
The Duchess: The Duchess is a young prostitute with a flair for the dramatic. During the exiles's journey, The Duchess is melodramatic and theatrical, traits that annoy her fellow traveling companions.
Mother Shipton: Mother Shipton is an older Madame who takes on a maternal role in the group. Mother Shipton later makes the ultimate sacrifice when she secretly starves herself in order to ensure enough food for Piney Woods.
Uncle Billy: Uncle Billy is a drunk scoundrel who steals the exile's mode of transport and rides up into the hills. Unlike the other exiles, Harte does not give Billy any redeemable qualities.
Tom Stinson: Tom Stinson, or Tom 'The Innocent,' demonstrates characteristics that reflect his name. He is described as a virgin who encounters the exiles while traveling with Piney Woods to get married. When Tom loses at cards to John, he has his money returned and receives a warning to never gamble again. His appallingly bad card playing abilities reflect his pure, innocent nature.
Piney Woods: Piney Woods is also painted as an innocent, fifteen-year-old virgin. She is eager to marry Tom, but was forced to run away with him because her father disapproves of their union. She forms a close bond with The Duchess.
Character Analysis Examples in The Outcasts of Poker Flat: