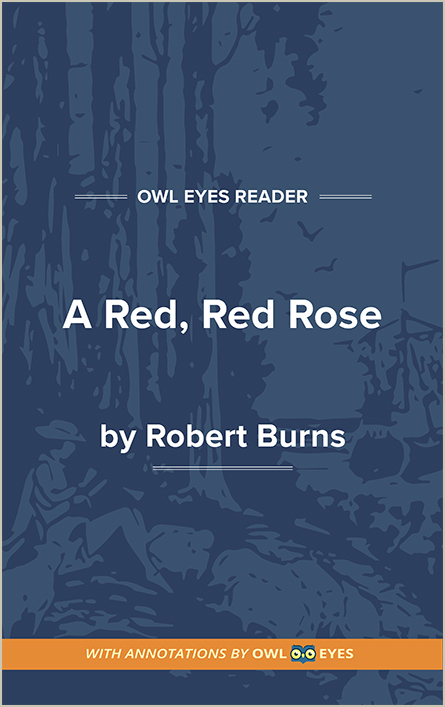 Although Robert Burns died at the age of thirty-seven, he lived with more intensity and produced more memorable writing than most authors who live twice as long. He is one of the great British poets of the eighteenth century, one who succeeded in capturing the confusions, volatility, and joy of his age.
Burns became acquainted with hard work early, on the family farm in Ayrshire, a rural part of southwest Scotland, where he grew up. His father, William Burnes, as he chose to spell the surname, was a poor tenant farmer who was kept in constant poverty by high rents and poor soil. By the age of twelve, Robert had been put to work in the fields, and he was doing a man's work at fifteen. Even while laboring strenuously, however, Burns was an avid reader, and he stole what moments he could to read, among others, Alexander Pope, William Shakespeare, John Milton, John Dryden, Laurence Sterne, Tobias Smollett, and the philosophers John Locke and Adam Smith.
The three major influences of Burns's early years were his father, a stern, upright, moderate Presbyterian, whom Burns immortalized in "The Cotter's Saturday Night" (1786); local folk songs and legends; and the eighteenth century Scottish Revival. His earliest schooling he received from John Murdoch, a scholar hired by the farmers of the district, and from the parish school in Dalrymple. In 1773 he was sent to Murdoch's school at Ayr for a brief period. The old notion that Burns was completely uneducated is quite inaccurate. He learned French well enough to read in that language, and he was well grounded in English grammar. During the summer of 1777, while living with an uncle at Ballochneil, he studied mathematics and surveying under Hugh Rodger, the schoolmaster at nearby Kirkoswald.
Throughout Burns's early life his family moved from one poor farm to another. They moved from Mount Oliphant to Lochlie in 1777 and from Lochlie to Mossgiel in 1784 after Burns's father died. As a possible source of income Robert tried to learn to dress flax in Irvine, but the work was uncongenial to him; when the flax shop burned down, he returned home. He then spent four years, together with his younger brothers, trying to make the farm at Mossgiel pay. By this time Burns had already started those romantic activities for which he became so well known. He had had affairs with Jean Armour and Mary Campbell by this period in his life, and, far more important, he had started writing verse. He began "The Jolly Beggars" as early as 1785, and this was preceded by several short songs and poems.
By the time he was twenty-five many of Burns's most strongly expressed ideas had begun to take shape in his mind. One of the most important of these was his mocking attitude toward Calvinism. Burns devoted much of his verse to exposing what he considered the hypocrisies and pomposities of Calvinism, and he was ever an enemy of the false, seemingly devout ministers, one of whom he pictures mercilessly in "Holy Willie's Prayer" (1799). Burns opposed the doctrine of predestination and oppression in all forms, and he tended to be suspicious of authority. Of equal importance was Burns's love of the countryside and its people. He was always primarily interested in the human significance of things, and, though not a nature poet in the Wordsworthian sense, tried to show the effects of the rural environment on the people he knew. As someone who lived most of his life in small villages, Burns had close connections with the peasantry. His rustic characters cope with a simple life and endure simple hardships.
After several years of fruitless and backbreaking work at the Mossgiel farm, Burns suddenly achieved success. The first edition of his poems was published in the nearby town of Kilmarnock in 1786, and overnight Burns became famous. That he should achieve fame with this group of poems, titled Poems, Chiefly in the Scottish Dialect , is only fitting, because it contains some of his best work: "The...
(The entire page is 1,198 words.)
Owl Eyes subscribers get unlimited access to our expert annotations, analyses, and study guides on your favorite texts. Master the classics for less than $5/month!