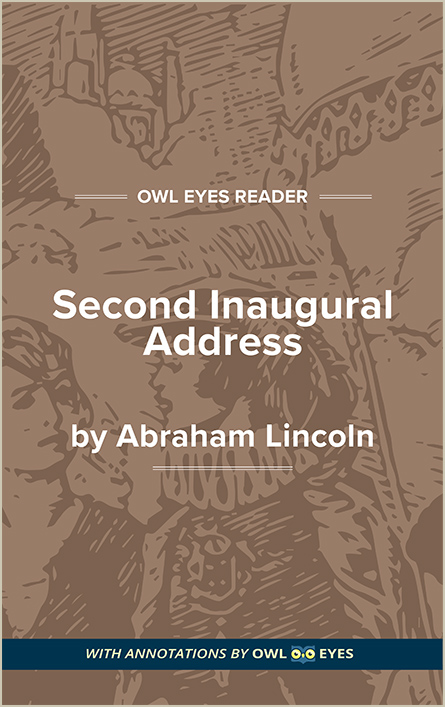 Historical Context

in

Second Inaugural Address
The End of the Civil War: By the time of Abraham Lincoln's election on November 6th, 1860, there were already rumors of possible secession by the Southern states. Sure enough, South Carolina seceded from the Union several weeks later on December 20th, followed by six other states in the ensuing months. As the Southern states consolidated themselves into the Confederacy, drafted a new constitution, and elected a president, war loomed ever larger. The Civil War officially began in April of 1861 with the Battle of Fort Sumter, a US Army base in South Carolina that was attacked by a neighboring rebel fort. The war proved far slower and bloodier than either side expected. As Lincoln remarked during his second inaugural speech—four years and roughly one million American fatalities later—"neither party expected for the war the magnitude or the duration which it has already attained." In his speech Lincoln calmly expects a Union victory, a prediction which would come to pass just five weeks later.
Lincoln's Presidency: Abraham Lincoln's presidency was defined by the Civil War. Many historians suspect that Lincoln's election in November of 1860 was one of the events which triggered the war. The Southern states fiercely opposed Lincoln's candidacy, particularly due to Lincoln's outspoken aims to curtail the spread of slavery. The secession of the South and the rise of the Confederacy began shortly after Lincoln was elected, in many ways a reaction to a new anti-slavery administration. The Civil War, which many thought would be a quick conflict, extended through the entirety of Lincoln's presidency and absorbed his attention. Lincoln's time in the oval office is remembered for two primary achievements: the eradication of slavery from the United States and the Union's victory over the Confederacy in the Civil War. At the time of his second inaugural address, Lincoln had completed the former and was soon to accomplish the latter.
Emancipation: One of the primary goals of Lincoln's administration was the emancipation of the slaves. Abraham Lincoln initially ran as a moderate candidate. Unlike the so-called "Radical Republicans," he did not present himself as a proponent of full emancipation. His stance was to stop the spread of slavery, not to stop slavery altogether. By 1862, however, Lincoln's goal had changed and in September of that year he issued the first Emancipation Proclamation, declaring his plan to free the slaves. Lincoln had suspected that the great conflict consuming American life would not truly be resolved until the problem at the nation's core—slavery, that is—had been solved. In his second inaugural address, Lincoln is more forward about his distaste for slavery than he had been as a candidate four years earlier. In the speech, Lincoln goes so far as to present the Civil War as a divine punishment for the nation's centuries-long history of slavery.
Historical Context Examples in Second Inaugural Address: