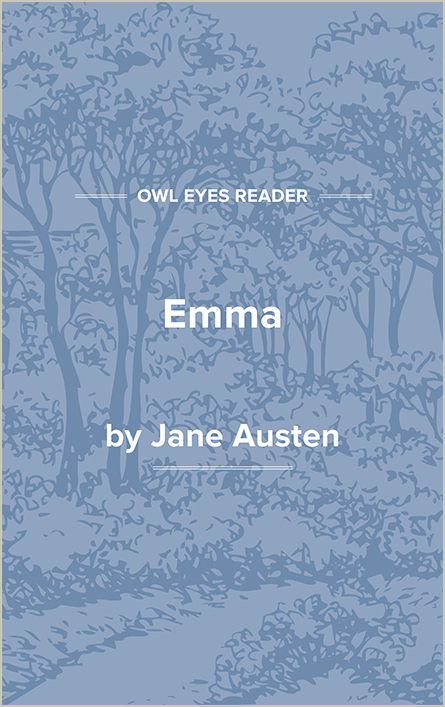 Emma Woodhouse
Emma Woodhouse, the younger daughter of the wealthy owner of Hartfield and the most important young woman in the village of Highbury. Good-hearted, intelligent, but spoiled, she takes under her protection Harriet Smith, a seventeen-year-old girl of unknown parentage who is at school in the village. Given to matchmaking, Emma breaks up the love affair between Harriet and Robert Martin, a worthy farmer, because she thinks Harriet deserves better; Emma persuades her to fall in love with the vicar, Mr. Elton. To her dismay, Elton proposes to her rather than to Harriet and is indignant when she refuses him. Next, Emma becomes interested in Frank Churchill, an attractive young man who visits his father in Highbury, and thinks him in love with her; but it develops that he is secretly engaged to Jane Fairfax. Emma had never really cared for Churchill, but she thinks him a possible match for Harriet. She becomes really concerned when she discovers that Harriet's new interest is in Mr. Knightley, an old friend of the Woodhouse family. She now realizes that Knightley is the man she has always loved, and she happily accepts his proposal. Harriet marries her old lover, Martin, and the matrimonial problems are solved.
George Knightley
George Knightley, a landowner of the neighborhood, sixteen years Emma's senior, and an old family friend. Honorable, intelligent, and frank, he has always told Emma the truth about herself. When she thinks that he may marry someone else, she realizes that she has always loved him and accepts his proposal.
John Knightley
John Knightley, George's brother, married to Emma's older sister.
Isabella Knightley
Isabella Knightley, nee Woodhouse, John Knightley's wife and Emma's sister, a gentle creature absorbed in her children.
Henry Woodhouse
Henry Woodhouse, father of Emma and Isabella, kindly and hospitable but an incurable hypochondriac.
Mr. Weston
Mr. Weston, a citizen of Highbury who has married Anne Taylor, Emma's former governess.
Anne Weston
Anne Weston, nee Taylor, Emma's former governess, a sensible woman whom Emma regards highly.
Frank Churchill
Frank Churchill, Mr. Weston's son by a former marriage. He has been adopted by and taken the name of his mother's family. His charm attracts Emma briefly, but she is not seriously interested. He is secretly engaged to Jane Fairfax.
Jane Fairfax
Jane Fairfax, a beautiful and accomplished orphan who visits her family in Highbury. Emma admires but cannot like her, finding her too reserved. The mystery of her personality is solved when it is...
(The entire page is 642 words.)
Owl Eyes subscribers get unlimited access to our expert annotations, analyses, and study guides on your favorite texts. Master the classics for less than $5/month!