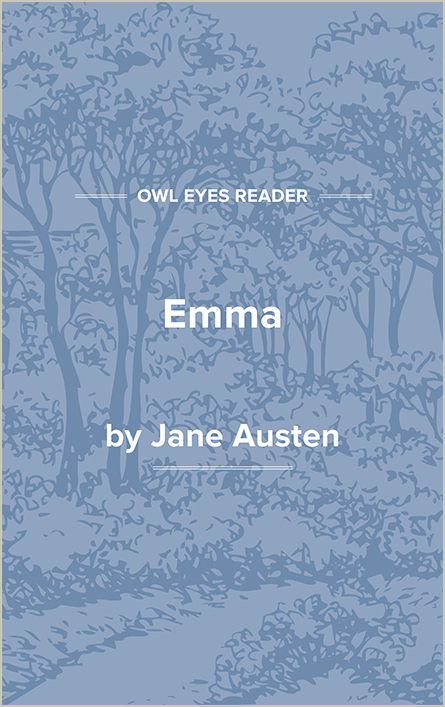 The forces that shape the dramatic action in Emma are described by Austen in the book's opening paragraphs; they are the qualities possessed by Emma Woodhouse herself. In this novel, Austen turns her satiric talents to a portrait of a wealthy young woman with "a disposition to think a little too well of herself," who has yet to acquire the sensitivity to realize that the emotional lives of her companions are not toys for her own amusement.
With an adoring, widowed father and an indulgent companion, Emma has reached early adulthood secure in the belief that she knows what is best for those around her. When her companion marries, Emma replaces her with Harriet Smith, an impressionable young girl from a local school, and quickly decides that the girl's fiancé, a farmer, is beneath her. Persuading Harriet to break off the engagement, despite the misgivings of Emma's admiring friend, Mr. Knightley, Emma sets in motion a chain of romantic misunderstandings that will come close to ruining Harriet's chances for happiness. After playing with the romantic futures of several of her acquaintances, Emma at last recognizes the dangers of her interference and realizes that her own chance for happiness has existed within her grasp for some time in the person of Mr. Knightley.
Emma is one of Austen's best novels, with some critics holding it in higher regard than Pride and Prejudice. In Emma Woodhouse, Austen has created one of her most memorable heroines, a willful, headstrong, yet fundamentally well-intentioned young woman whose intelligence and energy need the tempering of experience before she can be judged truly mature. She gains this experience through her relationship with Harriet when her manipulations backfire and...
(The entire page is 441 words.)
Owl Eyes subscribers get unlimited access to our expert annotations, analyses, and study guides on your favorite texts. Master the classics for less than $5/month!