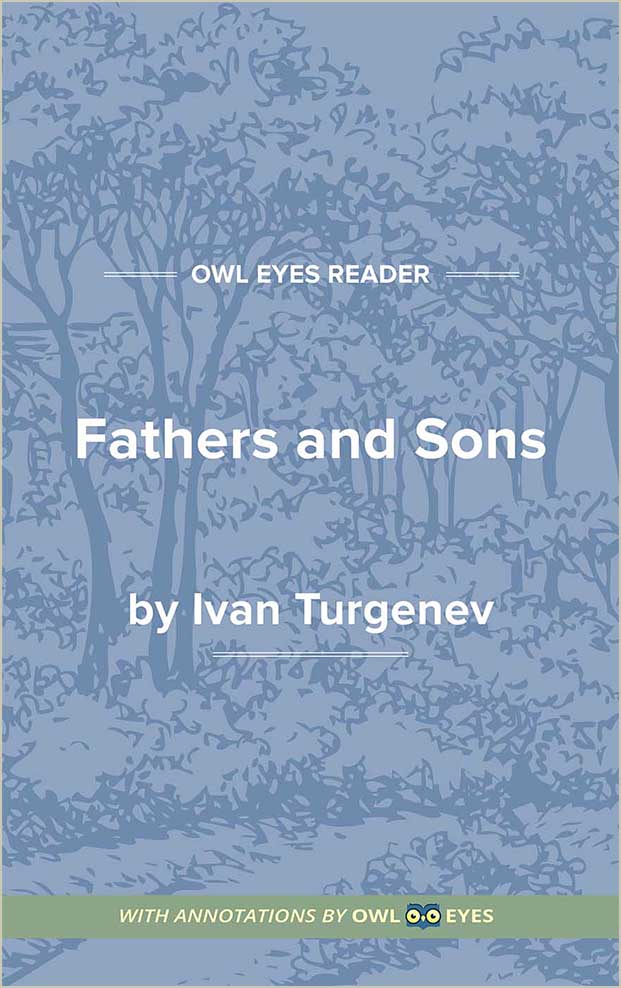 Fathers and Sons is probably Turgenev's most famous work. It addresses ideas of the period more directly than most of his other works and creates debate over these ideas as a conflict of generations. The novel's story is simple enough. Arkady brings his friend Evgeny Bazarov home with him at the end of his university studies. Home is a country estate occupied by Arkady's father, Nikolai Petrovich (who is a widower), his uncle Pavel Petrovich, Fenichka (a young woman living under Nikolai's protection), and Mitya, the son whom Fenichka has borne to Nikolai. Nikolai considers himself a progressive; Pavel cultivates the manner of an English aristocrat. Conflict develops when these middle-aged men enter into discussion with Bazarov, who rejects all authority but the evidence of scientific materialism and regards art with amused contempt.
Presently, Arkady and Bazarov pay a visit to town. They meet Sitnikov and Kukshin, a foolish young man and woman who pose as radical intellectuals. Then, at a governor's ball, they meet a young widow, Anna Sergeyevna Odintsov, and her younger sister Katya. Arkady and Bazarov are both smitten by Madame Odintsov and visit her at her country estate. When Bazarov declares his passion to Madame Odintsov, he is rejected. He then takes Arkady to visit his parents, traditionalists who belong to the modest gentry. Bazarov is an only child, deeply loved by his gentle, countrified parents.
After a time, Bazarov and Arkady revisit the Kirsanov estate, where Bazarov and Pavel Petrovich fight a nonfatal duel over a misunderstanding about Fenichka. Bazarov and Arkady visit Odintsov again, and now it is clear that Arkady is attracted not by Anna Sergeyevna but by her sister, Katya, a pretty but conventional (and marriageable) young woman.
Bazarov returns to his parents. He assists his father, a retired army doctor, in...
(The entire page is 466 words.)
Owl Eyes subscribers get unlimited access to our expert annotations, analyses, and study guides on your favorite texts. Master the classics for less than $5/month!