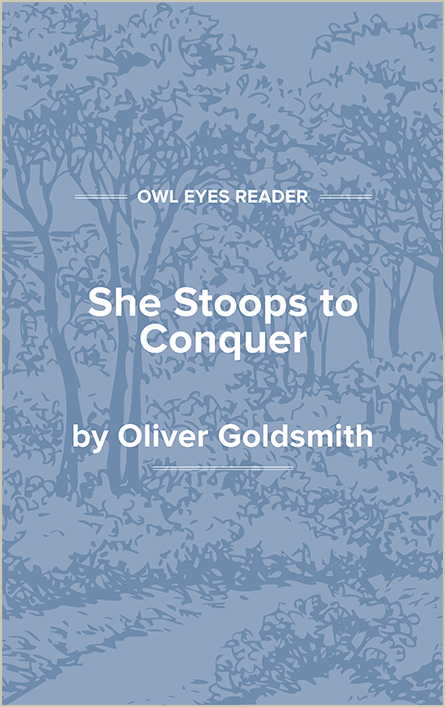 Historical Context

in

She Stoops to Conquer
Sentimental Comedy and 18th-Century Theater: The 18th-century theater scene was heavily occupied by Sentimental Comedies. These comedies were reflections of the Sentimentalist philosophical movement that was a powerful force in the 18th century. Sentimental Comedies were not so named because they provoke laughter, but because they have happy endings. Sentimentalist philosophy argues that ethics are born from human sentiments, such as sympathy and empathy. These comedies seek to play on the sentiments of the audience and bring about sympathetic tears, not laughter. Goldsmith targeted Sentimental Comedy with She Stoops to Conquer, attempting to make his audiences laugh rather than cry. Goldsmith argues that comedy is meant to make audiences laugh at the vices of humankind. She Stoops to Conquer is a well known work in the canon of Laughing Comedies, which remained in vogue long after the Sentimental Comedy eventually died out.
Changing Economy and Industrial Shift: In the late 18th century, the improvements from the agricultural revolution resulted in affordable, higher-quality foods. However, due to bad harvest years, wars, and inflation, hunger was still on the rise. To add to this hardship, the agricultural landscape was shifting from numerous small farms to several massive farms. This change drove many farmers out of the country and into the factories created by the Industrial Revolution. The changing economic makeup of England at the time was reflected by the growth of the middle class. In general, these changes increased wealth among those connected with commerce and industry, while simultaneously decreasing the wealth held by the titled and landed elite. This development led to the "marriage market"—in which children from old-money families would marry new-money heirs—which serves as a backdrop for the events of She Stoops to Conquer.
Historical Context Examples in She Stoops to Conquer: