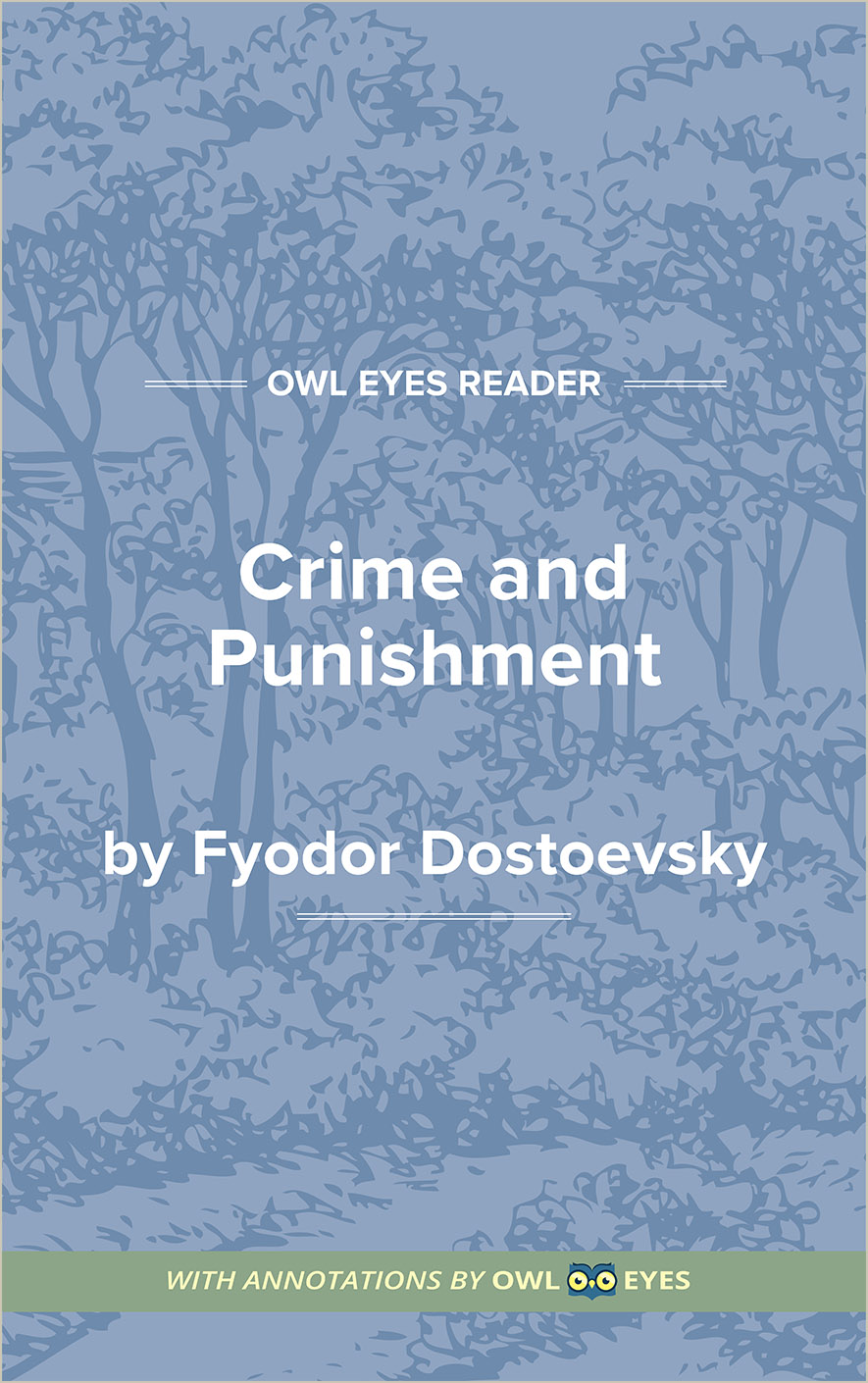 Themes

in

Crime and Punishment
Crime, Morality, and Redemption: The crime Raskolnikov commits and the ramifications it has on his soul and community serve as the primary theme explored throughout the novel. It is revealed that Raskolnikov wrote a paper claiming how "extraordinary" people may operate outside the confines of morality in order to achieve greatness. At first glance, Raskolnikov's murdering the pawnbroker represents an attempt to test this theory and better society by removing a corrupt, greedy element. However, the remainder of the novel concerns philosophical and spiritual discussions on the possibility of moral rehabilitation in a world of crime and temptation.
Sanity and Mental Collapse: Many characters in the Haymarket struggle with basic survival—both physical and mental. Several, such as Sonya's father, Marmeladov, seek solace through alcohol abuse, which leads to the poverty and his eventual death that drives his wife, Katerina, to madness. Others, like Raskolnikov, nurture an obsession that threatens to destroy their connection to reality. Finally, fear plays a strong role in the emotional health of the characters, seen most poignantly in the deterioration of Raskolnikov's mental state after the murder.
Coincidence, Fate, and Free Will: Raskolnikov himself remarks on the series of coincidences that lead him to the pawnbroker's room, which in turn lead him to question whether or not he actually had any choice but to kill the pawnbroker and her sister. Nearly all the characters in the novel have their own encounters with coincidence, with some ascribing it to the will of Fate or God and others attributing it to the power of their own choices. Dostoevsky explores this theme through how his main character perceives events: Raskolnikov identifies coincidences and then draws conclusions and meaning from them. However, Dostoevsky also uses the novel itself to explore coincidence and free will by never providing a simple rationale for Raskolnikov's crime: the novel represents the chaos and unpredictability of life, serving as an exercise in the author's freedom to organize events.
Love and Family: Families by birth and marriage are central to the novel. While Raskolnikov has a difficult relationship with his mother and sister, he recognizes the sacrifices they've made for his own well-being. This causes him to distance himself from their charity, but he continues to protect them—and his sister, Dunya, in particular—from others, such as Luzhin's desire to marry Dunya, and Svidrigailov's lecherous wishes. Raskolnikov's fraught family relationships stand in contrast to others, like Razumihin and Sonya, who are completely devoted to their families and those they love.
Themes Examples in Crime and Punishment: