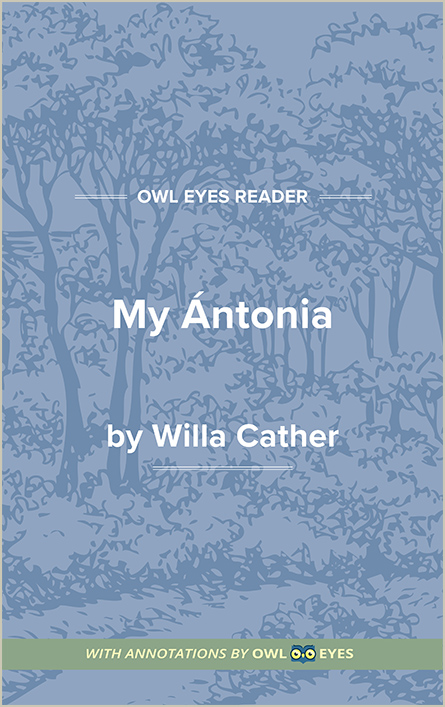 Annotated Full Text

Literary Period:

Regionalism

Publication Date:

1918

Flesch-Kincaid Level:

6

Approx. Reading Time:

6 hours and 48 minutes
Published in 1918, My Ántonia is the third book in Willa Cather's "Prairie Trilogy," a collection of novels depicting life on the American Frontier during the mid-19th century. All three novels enjoyed immediate commercial success and are considered authentic, nuanced depictions of life on the American frontier. Some of the details of My Ántonia closely mirror aspects of Cather's life, which has led to speculation that the novel is semi-autobiographical. Of particular note are the parallels between Jim, the novel's narrator, and Cather. Both figures moved West when they were young, developed strong relationships with the local immigrant communities, and went on to devote significant portions of their professional lives to the lands and people of their youths. The novel is presented as a manuscript written by Jim and details his life and relationship with a Bohemian girl named Antonia. Using first-person narration, Jim recounts his adventures on the frontier with the other children, touching on the ideas of class, gender, and the formation of identity, as well as differing conceptions of what it means to live a fulfilling life.
Annotated Full Text

Literary Period:

Regionalism

Publication Date:

1918

Flesch-Kincaid Level:

6

Approx. Reading Time:

6 hours and 48 minutes