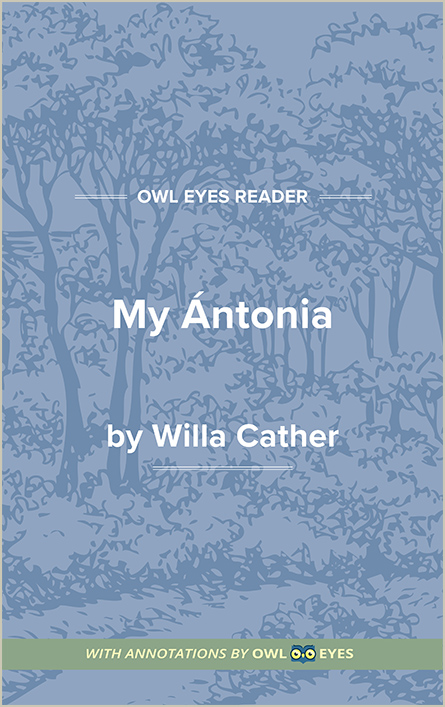 How Identity Informs the Concepts of Success and Happiness: My Antonia primarily follows the lives of Jim and Antonia, but they are surrounded by a wide range of characters with their own successes and hardships. One of the main thematic ideas of the novel is how success changes based on perspective. Jim stayed away from Antonia for twenty years out of fear that her circumstances had broken her, but he instead finds her worn but happy with a faithful husband and many children. In contrast, Tiny Soderball and Lena Lingard both achieve their goals of independence, rejecting the narrative of the nurturing mother and wife because of their experiences as girls growing up on the frontier. Jim begins to understand the importance of perspective after reconnecting with Antonia, realizing that despite her poverty and hardships, she is happy with her role as a mother and laborer.
The Role of Memory in Shaping Identity: Memory plays a major role in shaping the way characters interact with each other. Even when Jim is far away from Black Hawk, his thoughts still wander to the figures from his childhood, like Pavel and Peter, Mr. Shimerda, and Antonia. As much as his family and Gaston Cleric want him to be a pure academic, his upbringing in the West left a lasting impression on how he views the world. Antonia comes to embody these memories for Jim, all while maintaining her photo collection as a physical tether between the adventures of their youth and their adult lives.
Academic Knowledge vs. Emotional Knowledge: Jim, as a wealthy Nebraskan, is expected to attend school and eventually go to college. Immigrant children were given less educational and financial options, which meant they primarily relied on their families and friends for life lessons and skills. The educational divides contribute to the prejudice towards immigrant characters, who often had different religious and linguistic backgrounds than their wealthier American neighbors. Jim rebels against this division, preferring the company of the immigrant girls when he moves to town and synthesizing the emotional and cultural lessons he learns from them with his academic pursuits. He takes this into his adult life as well, combining his profession as a lawyer with his emotional connection to the West.
Themes Examples in My Ántonia: