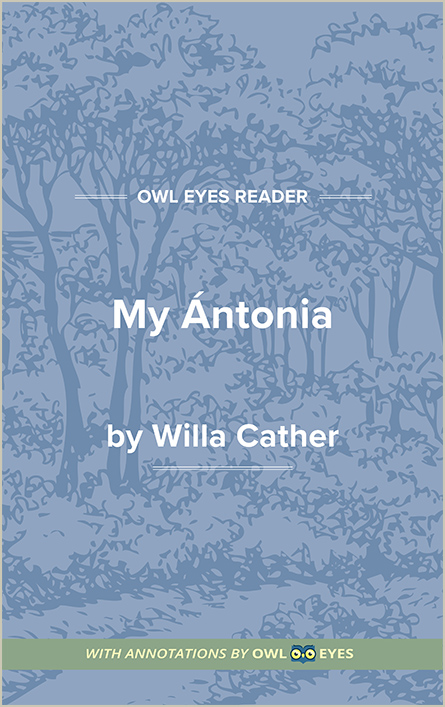 Character Analysis

in

My Ántonia
Jim: James Quayle "Jim" Burden is the narrator of the story. He was orphaned when he was ten and moved from Virginia to Nebraska to live with his grandparents. He comes from a relatively wealthy family, and his friendship with Antonia and the other immigrant girls often puts him in conflict with the social expectations that come with his status. Jim is characterized as smart and well-liked, graduating as high school valedictorian before attending college and eventually becoming a successful lawyer. Despite his financial success, Jim stays in contact with the figures and places of his youth, devoting his legal career to developing and settling the West. His feelings for Antonia are a complicated mix of platonic, familial, and romantic.
Antonia: In contrast to Jim, Antonia is the daughter of poor immigrants from Bohemia. Cheerful and hardworking, she takes on a large amount of physical labor, which ages her prematurely but does not break her spirit. She becomes like an older sister to Jim during their childhood, and he undertakes the task of teaching her to speak English. Although she comes to Nebraska as a stranger and suffers many hardships, she comes to genuinely love the land. Despite her many misfortunes, she remains resilient and carves out a happy life for herself.
Mr. Shimerda: Antonia's father, Mr. Shimerda leaves a lasting impact on Jim and Antonia. He was a well-respected weaver and musician in Bohemia and only moved to the United States at his wife's insistence that it would provide a better life for their son. He becomes increasingly depressed over the way his life has changed after moving and eventually dies by suicide. His death remains a source of shared grief between Antonia and Jim, with the two often convening at Mr. Shimerda's grave to talk or sit. Antonia continues to cultivate the land that he sacrificed everything for, nurturing his memory in the process.
Gaston Cleric: Cleric is an academic who takes Jim under his wing after Jim begins attending University in Lincoln. He introduces Jim to "the world of ideas" and helps him transition into the world of academia. Cleric has a strong admiration for Greek and Roman mythology, often referencing sites and stories during his lectures and discussions. When Jim starts neglecting his schoolwork in favor of spending time with Lena Lingard, Cleric convinces him to relocate and attend Harvard.
Lena Lingard: The stories of the Black Hawk immigrant girls provide a subversion of the usual narratives of women's financial dependence. Lena Lingard, who the people of Black Hawk viewed as an immoral flirt, becomes a successful and independent dressmaker. Jim and Lena enjoy a brief romance in Lincoln before he moves on to Harvard, and she tells him when they part that she never intends to marry because she doesn't want to be accountable to anyone. Men are drawn to Lena because of her good looks and carefree disposition, but Lena is ambitious and driven, allowing her to find the success and independence she desires.
Character Analysis Examples in My Ántonia: