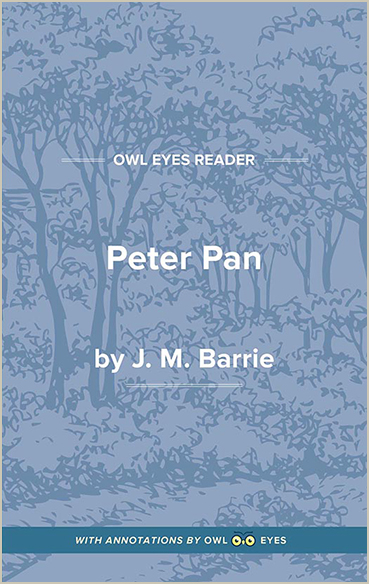 James Matthew Barrie was of humble origins, the seventh of the eight surviving children of David Barrie, a Scottish weaver. Barrie's mother, Margaret Ogilvy, was a strict Puritan, reared in the fundamentalist beliefs of the Auld Lichts (Old Lights), a sect of the Presbyterian Church of Scotland. The unusual strength of the influence she exerted over Barrie throughout his life was detrimental to him in many ways. When he was six, his older brother David, aged nearly fourteen and his mother's favorite, died after a skating accident. Margaret Ogilvy was desolate in her loss, and the young James made a conscious effort to become a substitute for David, to help her overcome her grief. This was the beginning of the sharp division for Barrie between home, where he was acting out a fantasy in his most intimate relationship, and the outside, real world.
Barrie entered Dumfries Academy in 1873, and while there he began to be interested in all aspects of the theater. He was a founding member of a school dramatic society and left school intent on becoming a writer. Family opposition was strong, however, and reluctantly he entered Edinburgh University, graduating in 1882. During his years as an undergraduate, he wrote as a freelance drama critic for the Edinburgh Courant. After an unsuccessful year spent in Edinburgh researching a book on the early satirical poetry of Great Britain, he answered an advertisement for a job as leader-writer for the Nottingham Journal. Editorial supervision was virtually nonexistent, and Barrie wrote extensively for the paper under a variety of names. He began sending articles to London, undaunted by frequent rejections.
In 1884, Barrie returned to Scotland, where he wrote up his mother's childhood memories. "An Auld Licht Community" was published in the St. James's Gazette, and the editor requested more in the same vein, which Barrie found easy to provide. The following year, he decided that to make a career of writing he would have to be in London, so he moved south. He managed to sell articles steadily and before long was making a respectable living. His first successful book, a collection of Scottish articles, Auld Licht Idylls, appeared in 1888; together with A Window in Thrums (1889), it raised a storm of protest in Scotland, but Barrie was undeterred.
Barrie was now writing furiously, working simultaneously on a novel, The Little Minister, and a play. The part of the second leading lady in Walker, London went to Mary Ansell, whom Barrie ultimately married in 1894. The marriage, apparently unconsummated, ended in divorce in 1909, their companionship having been disrupted by the extraordinary way that Barrie was attracted to the Llewelyn Davies family, initially to the children, George (born 1893), Jack (born 1894), and Peter (born 1897), but later to Sylvia Jocelyn Llewelyn Davies, their mother. Barrie met her at a dinner party in 1897 and subsequently met the children in Kensington Gardens. They were enchanted by his stories, and he would frequently accompany them home. It was not long before he was behaving like a member of the family, despite the reluctance of their father, Arthur Llewelyn Davies, to accept this situation.
The year 1900 saw the birth of the Llewelyn Davies' fourth son, Michael, and Mary Barrie's purchase of Black Lake Cottage on the outskirts of Farnham, Surrey. Here Barrie and the three older Davies boys spent the summer of 1901 enacting adventures and fantasies in the overgrown gardens, setting the scene for Peter Pan. It was not until 1903, however, after the success of Quality Street, The Admirable Crichton, and Little Mary, that Barrie began the play that was to make him a household name.
In 1906, two years after the birth of his fifth son, Nicholas, Arthur...
(The entire page is 933 words.)
Owl Eyes subscribers get unlimited access to our expert annotations, analyses, and study guides on your favorite texts. Master the classics for less than $5/month!