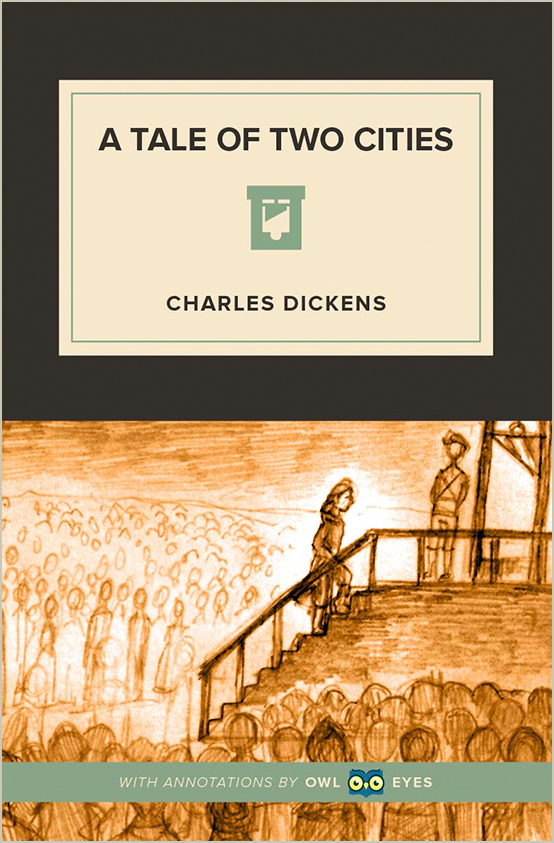 Character Analysis

in

A Tale of Two Cities
Charles Darnay (Evrémonde): Charles Darnay is a French emigrant who renounces his aristocratic heritage (and inheritance) for an industrious life in England. He is married to Lucie Manette and nephew of the Marquis Evrémonde. Though he sympathizes with the oppressed peasants, they still try to execute him because of his family heritage.
Lucie Manette: Lucie is Dr. Manette's daughter and Charles Darnay's wife. She is remarkably loyal and dutiful and acts as the "golden thread" that keeps her family together during difficult times. She often serves as an impetus for healing, restoring her father to health after his return to England. She has faith in the goodness of others (notably, Sydney Carton) when they seem to be unredeemable.
Dr. Alexandre Manette: Manette is a Parisian physician who was imprisoned in the Bastille for 18 years. If something reminds him too much of his imprisonment, it triggers memory loss and obsessive shoe-making, a skill he learned in prison. Manette's transformation from fragile sufferer to man of action shows his resiliency and the healing effects of treating others with kindness.
Sydney Carton: At the beginning of the novel, Sydney Carton is a lazy drunk who works for Mr. Stryver. He is physically similar to Charles Darnay, of whom he is quite jealous. He is in love with Lucie Manette and becomes devoted to her and her daughter, "little Lucie," later in the novel. His love for Lucie motivates him to be executed in Darnay's place—this final act giving his life meaning.
Jarvis Lorry: Jarvis Lorry works for Tellson's Bank. He is a pragmatic "man of business" who claims to never be influenced by his emotions, but he is very loyal to Dr. Manette, Lucie, and Charles Darnay. He rescues Dr. Manette from Saint Antoine and becomes the Manette family's close friend and confidante.
Ernest Defarge: Ernest Defarge owns a prominent wine shop in Saint Antoine. He is Dr. Manette's former servant. When Dr. Manette was released from prison, Defarge hid him in a garret above the wine shop until Mr. Lorry and Lucie arrived to take him to England. Defarge is loyal to the cause of the revolutionaries, but is uneasy about the brutality and paranoia that grips Saint Antoine during the French Revolution.
Madame Therese Defarge: Madame Defarge is married to Ernest Defarge. She is considered one of the leaders of the revolutionaries in Saint Antoine. In the years preceding the French Revolution, Madame Defarge knitted the names of aristocrats, government officials, and government spies into a coded "registry" so the revolutionaries would know who to execute when the Revolution began, showing her vengeful side beneath her passive exterior. As the surviving sibling of the Evrémondes' victims, she seeks revenge at any cost on those who have wronged her family. She is ultimately killed in a scuffle by her own gun.
Character Analysis Examples in A Tale of Two Cities: