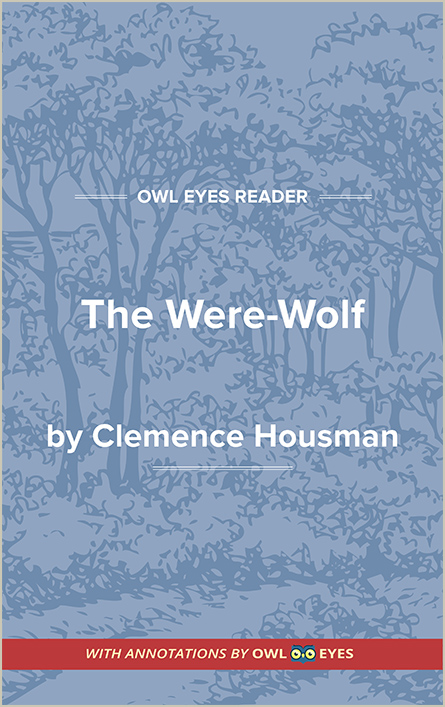 Combination of Feminine and Masculine Traits: At the beginning of the story, characters make distinct contrasts between traditionally feminine traits, such as beauty, and masculine traits, such as strength. Though the two are originally seen as exclusive, White Fell, with her striking looks accompanied by a handaxe, is a perfect mixture of both. Housman's involvement in the suffragette movement advocating equal rights for women—which occasionally turned violent—may have influenced her depiction of White Fell, who is just as strong, intelligent, and competent as the men around her.
Transgression of Nature into Civilization (and Vice Versa): White Fell's appearance at the home upends the order of the loving family, representing the transgression of the danger of nature into the comforts of civilization. Notably, only the dog Tyr and Christian—who has just spent some time in the wilderness hunting a bear—are able to immediately recognize White Fell as a danger. Following White Fell's departure, Christian ventures into the surrounding forest, where he finds the natural world unwelcoming to his intrusion.
Supernatural Belief vs. Scientific Skepticism: The twin brothers have differing belief systems that contrast with each other. Christian is sympathetic to mysticism and the supernatural while Sweyn is a skeptic, valuing evidence over feeling or supernatural explanations. Both believe they are correct, but only Christian seeks out additional proof of his belief.
Sacrificial Love as Divine: In portraying selfless love even in the face of rejection and hate, Housman suggests that Christian's love for Sweyn is love in its purest form, capable of defeating even the greatest of evils. Christian's blood itself becomes an instrument of divine power—appropriate, given that he symbolically represents the biblical Jesus Christ. In contrast, Sweyn's infatuation with White Fell causes him to turn against his loyal brother, mistaking protectiveness for jealousy again and again.
Themes Examples in The Were-Wolf: